Highlighting Beautiful Design
Turk Landscape Design has been creating visionary gardens and outdoor living spaces since 2002. We teamed up with them in 2015, but six years and many, many stunning projects later, it was time for a refresh.
Style and Substance
Inspired by glossy design magazines, we opted for a sophisticated look and feel. Large images and immersive video invite viewers into these lush, colourful spaces while written content guides them through each project's vision, process, and final results.

Elsewhere, prospective clients can learn everything they need to know: from the helpful FAQ, to the extensive description of services, to the team page, which introduces the warm and talented duo behind the brand.
High Praise
Since Turk's achievements in landscape design have won them so many satisfied clients, we prominently featured these relationships on the site. Each project begins with the client's desires for their dream properties and ends showing how Turk made them happen. Photos depicting clients proudly enjoying their new outdoor spaces and glowing testimonials add even more proof of client satisfaction.

Turk's new site is bigger in every way, with more space devoted to projects and large-scale photography, helping these dynamic landscape designers successfully tell their story and connect with more clients.
Client: Turk Landscape Design
Title: Design. Create. Cultivate. Illuminate.
Project: WordPress Website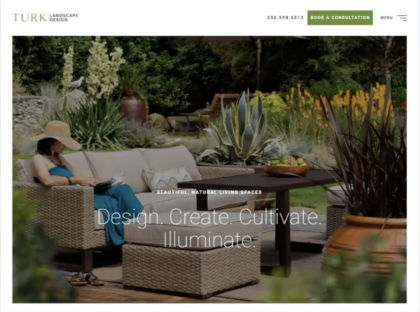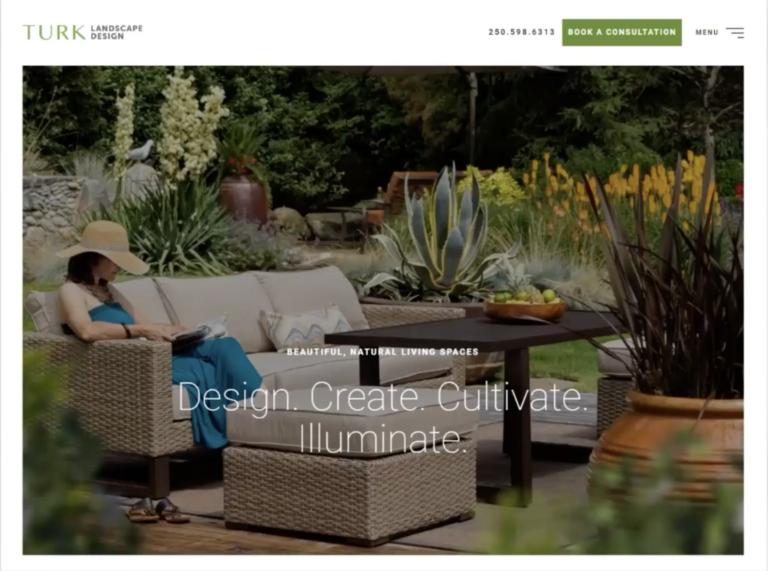 "Neil and the dream team at Leap have once again brought a fresh new feel to our presence on the web! It's something if you can stand out above your competition and deliver your message. Our new website does just that. Working with Leap since 2015, what a great experience it always is!"